TANDO MOHAMMAD KHAN/NAUSHAHARO FEROZE, Pakistan – Aashu Tresa, 32, remembers when becoming a mother was a life-or-death proposition.
When she was growing up, no one in her rural village, Misree Kolhi, gave birth under the care of a trained health worker. "Unskilled, untrained birth attendants were doing deliveries in our community. Some of the newborns died and some of the women had infections during deliveries," she recounted.
Even now, the journey to motherhood remains a dangerous one in Pakistan.
Some 178 women die of pregnancy-related causes out of every 100,000 live births, a ratio far higher than the regional average. Only 55 per cent of births are attended by skilled health personnel.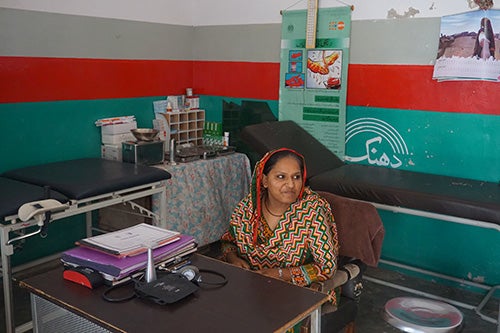 Ms. Tresa wanted to change things.
"I decided to become a community midwife to save the lives of newborns and mothers," she told UNFPA during a recent visit in Sindh Province.
In 2008, Pakistan introduced an 18-month training programme for community midwives. But lack of clinical experience limited the midwives' ability to practice after graduation.
In 2014, UNFPA – together with the Department of Health and Sindh Province's Maternal, Newborn and Child Health programme – launched a pilot effort to supplement the midwifery courses with hands-on training. Midwifery coaches visited the midwives' clinics, offering guidance and mentorship.
Today, Ms. Tresa proudly says she "provides quality of services like a medical doctor."
Overcoming doubt and criticism
But the midwives also faced challenges beyond education and training.
In rural Pakistan, many people consider it shameful or unorthodox for women to work outside the home. According to a 2012 survey in Pakistan, 70 per cent of respondents said that when women work, their children suffer.
Many of the midwives faced these attitudes, as well.
"My in-laws and other relatives were against me," said Shabana Jabir Ansari, 27, from Mushtrika Colony. "Sometime due to my duties – morning and evening shifts – people said negative comments. That hurt me."
Fozia Foto, 32, had the same experience in Hussain Khan Laghari Village. "I was the first girl who studied in my family and the first to become a midwife, so initially our relatives were against me," she said.
She stayed in hostels while enrolled in the midwifery school, which critics also used against her.
"People said that I was living alone at the school and said so many bad things about my character," she remembered.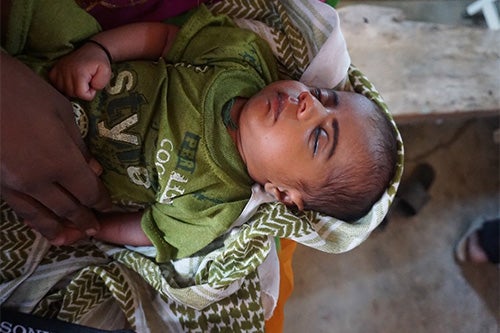 Empowered women saving lives
Community members were also sceptical of the midwives' abilities.
The midwifery school and coaching programme gave them the skills to save lives, but they were not always afforded the opportunity.
"People didn't trust me initially. Even for delivering babies, they didn't refer cases to my birthing station," said 30-year-old Reshma Korejo, from Meer Mohammad Korejo Village.
She had to deliver two or three babies safely before she gained villagers' trust.
"It was a big challenge for me to face those types of negative behaviours," she said, but "slowly and gradually things changed."
And as the midwives became established, they started changing minds, even raising awareness about issues that were not widely accepted – such as family planning.
"There are myths in the minds of women," said Ms. Ansari about contraceptives like the intrauterine contraceptive device (IUCD).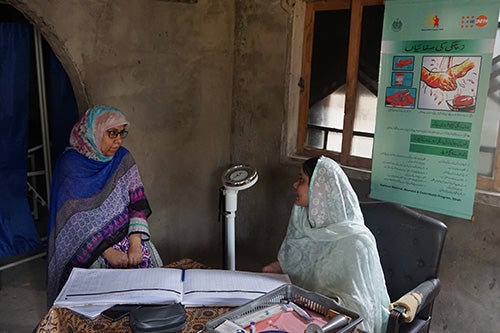 Slowly, the midwives say, use of modern family planning methods is increasing.
And they are also accomplishing the goal that motivated them in the first place: They are saving lives.
Kousar Dahri, 32, remembered reviving a newborn baby in her village of Khamiso Khan Dahri.
"There was a woman in the community. She already had six babies, and she came for the delivery of the seventh," Ms. Dahri said. "She delivered a son who required resuscitation, which I had been trained on. I started CPR, following the steps, and the baby was successfully resuscitated."
Expanding training and support
So far, over 300 midwives have benefitted from the coaching and mentorship programme.
Plans are now underway to scale up midwifery training efforts.
The 18-month midwifery training programme is being expanded to 24 months, with help from UNFPA. And the midwifery coaching programme will be rolled out to all the districts in Sindh through 2018.
These programmes will empower more women to save lives.
As for Ms. Dahri, she says the experience of saving that newborn stays with her.
"Saving any child feels like saving all of humanity," she said.