Zarmina, 33, from Khyber district, is a mother of six young children. At the tender age of eight, she became an orphan and was married off at 16 as a second wife to a daily wage labourer. It was hard for both to make ends meet. When her husband could not find work, he would beat her up to vent his frustration. As if her problems were not enough, Zarmina's husband died in a car accident in 2019, soon after she had given birth to her sixth child. She was worried and traumatized as she now had to provide for her children on her own.
Zarmina had given birth to her lastborn at a UNFPA-supported rural health centre (RHC). She went back to the centre for post-natal care, and the psychologist at the RHC counseled her to help her heal from the trauma and cope better with her situation.
The mother of six eventually gained confidence after several sessions with the psychologist.  She opened a mini shop at her house to make a steadier living.
It was not long before the COVID-19 pandemic hit the country. Zarmina, in an already fragile mental and emotional state, again experienced fear and anxiety and developed feelings of helplessness. She reached out to the staff at RHC and received four more awareness and counselling sessions on COVID-19 prevention and the management of anxiety caused by the pandemic.
"I was scared. I thought I would die because of the Coronavirus and that my children would be left alone in this world. This worry was eating me alive. I am the only hope for my children. I now feel so encouraged after the doctor talked to me. Now I am standing strong," says Zarmina.
UNFPA, along with its partner Rozan, has further trained the psychologists providing psychosocial support for anxiety and fear related to COVID-19 and other issues such as awareness-raising, psychological support, and referral of cases of gender-based violence (GBV).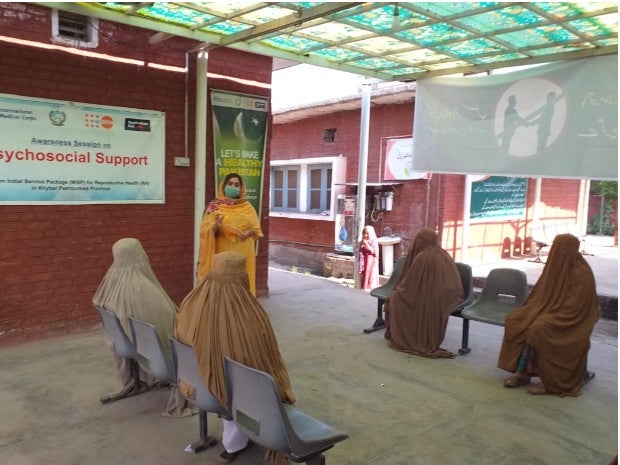 Provision of pyschosocial support to women 
During the COVID-19 response, the trained psychologists are linked with government-designated health facilities to provide psychosocial support and counselling to patients and health workers at the frontlines from across Pakistan.
The COVID-19 pandemic took a heavy psychological toll on communities that witnessed rising numbers of cases around them. Women and girls faced an increased vulnerability to violence and abuse during the lockdown and mounting economic pressures. Reports of domestic abuse rose across the globe. While the COVID-19 pandemic strained the already fragile health and protection systems, it became harder for survivors of violence to access protection and support services.
UNFPA, building on its extensive experience of emergency response and using its existing facilities and resources, provided women and girls with reproductive health services and psychosocial support.
UNFPA Pakistan supports the provision of psychosocial support, access to safe spaces and shelters and referrals to health services. Prevention and response services to GBV are integrated with emergency reproductive health services.
One such intervention was implemented in Khyber and Peshawar districts. Khyber is among the Khyber Pakhtunkhwa's newly merged districts, characterized by a high unmet need for family planning and limited access to maternity care.  
In Khyber and Peshawar districts, UNFPA, with the support from the Department of Foreign Affairs and Trade (DFAT) Australia, is supporting a network of well-equipped health facilities with trained health staff including doctors, lady health visitors (LHVs) and psychologists and offering family planning supplies, medicines and dignity kits to women and girls among Afghan refugees and host communities.
In addition to essential maternal and reproductive health services, women-friendly spaces have been set up at these facilities where psychologists and staff provide psychosocial support, case management, referral, and essential GBV services. Community outreach activities are carried out to complement these services to create awareness of Afghan refugees and host communities of reproductive health, family planning and GBV.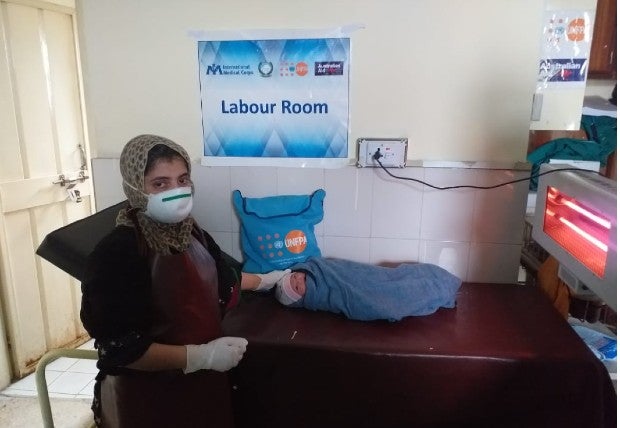 UNFPA Pakistan supports safe birth 
As the world commemorated World Mental Health Day on 10 October, UNFPA Pakistan reiterated its commitment towards the continuous provision of psychological support to survivors of - GBV.
UNFPA Pakistan Acting Representative Bakhtior Kadirov said mental, physical health and social conditions are three vital strands of human life that are deeply interdependent and interconnected. He said humanitarian emergencies cause significant psychological and social suffering among affected populations.
"At the individual, family, community and societal levels, emergencies disintegrate structures and disrupt protective support and networks, increasing the risks of reproductive ill-health and diseases, and amplifying pre-existing vulnerabilities that subject women and girls to gender-based violence. Therefore, during humanitarian emergencies, it is of paramount importance to pay due attention to the mental and psychological implications of sexual and reproductive health and gender-based violence," said Kadirov.