Three youth teams have started implementing startups on life skills-based education, menstrual hygiene management, and access to reproductive health rights after they were awarded seed money of 75,000 Pakistan Rupees and underwent a two-month mentorship programme which qualified them for the incubation phase of the "Health and Wellbeing Youth Innovation Challenge 2022". The challenge encouraged young people aged 19 to 29 to design solutions to the issues affecting young people.
She-Guard, a female-led startup, won the challenge for its environmentally and skin-friendly, affordable biodegradable sanitary pads made of natural herbs. Saheli Radio from Umerkot, Sindh, were awarded for their custom-designed MP3 players to disseminate reproductive health rights information among women in the community, with recorded episodes in the regional language, Thatki. Nisa Kahaniya, a project by youth-led enterprise, Baithak, won for its special series of comics for adolescents, which aims to initiate conversations around puberty and physical and hormonal changes.
UNFPA Pakistan, in partnership with the School of Leadership Foundation (SOLF), launched the Health and Wellbeing Youth Innovation Challenge 2022" in April to facilitate making reproductive health services accessible and effective. In a rapidly changing world, UNFPA aims to create, promote, and implement dynamic solutions to meet the needs of women and girls and deliver reproductive health services for all. In tandem with the Sustainable Development Goals (SDGs), innovation is critical to accelerating progress toward global development aspirations.
The programme explored unconventional, innovative, and community-initiated solutions to reproductive health.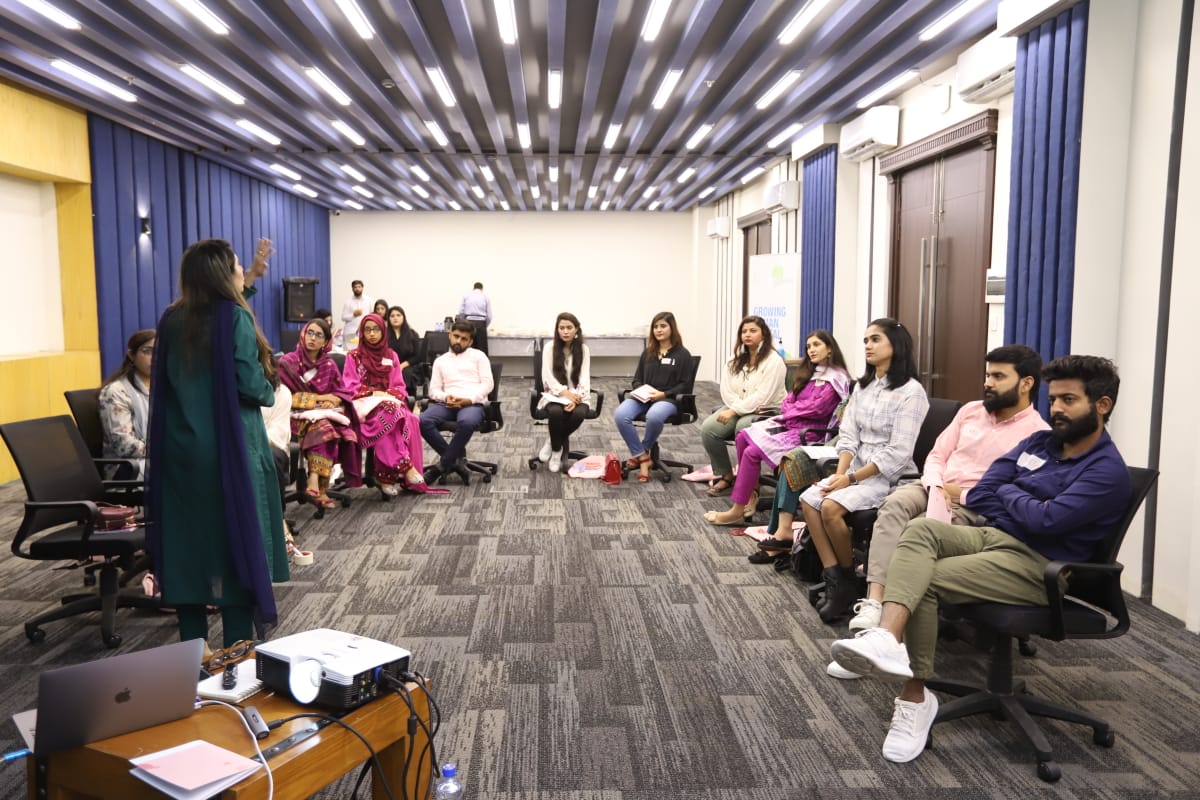 The boot camp in session
Five youth-led innovative solutions from underdeveloped areas of Pakistan were selected out of 88 applications from around the country. The five teams attended a three-day Design Thinking boot camp in Islamabad in May 2022. The boot camp was focused on improving the suggested solutions and reframing the impact statement by researching the key stakeholders and diving deep into the causes and symptoms of the problem the teams were trying to solve. On the final day, the teams went head-to-head to give their final presentations to a panel of diverse and esteemed judges with expertise in entrepreneurship, startups and family planning, and reproductive health.
 "We gained a tremendous amount of exposure. Opportunities like this were not provided to us in the universities we attended," said Mehreen Raza, one of the winning participants. "For instance, the boot camp covered skills like stakeholder mapping and critical thinking. I wasn't previously aware of these skills, and they are extremely helpful in taking our project ideas to the next level."
"We are very thankful to UNFPA and SoLF for providing us with the necessary mentorship and critical feedback to improve further and develop our ideas. We hope to use the funding we have received for the betterment of society, providing adolescents with the necessary awareness and information that they have grown up without," said Bhoora Lal, another winning participant.
The judges were also impressed by the innovations, the high ambitions of all the teams, how they owned their ideas and their willingness to put in the required effort to make them even better. "It's good to see the youth of Pakistan being provided such platforms, bringing in innovative ideas, and raising awareness on taboo topics in rural and underdeveloped areas," said Asim Ghaffar, Co-Founder of EashFresh Technologies. The judges primarily based their decisions on the creativity, approach, use, and relevance to the current needs of the ideas and prototypes presented by the teams.
Community-based innovative, sustainable solutions need encouragement and support, especially when initiated by young people. Pakistan's majority population is presently under 30 at 67 percent, according to the 2017 Population and Housing Census. This demographic has the potential to change the future. With technological advancements daily and the increasing accessibility to the internet, young people can actively explore creative solutions to their challenges if empowered to do so. UNFPA Pakistan is committed to advocating for the rights and needs of youth, especially those marginalized.